Monterey Bay Aquarium
As of August 31st, 2011, the sixth live great white shark to ever go on display made it's debut in the Open Sea tank at the Monterey Bay Aquarium in California.
This is one of the things that makes the Monterey Bay Aquarium great in my opinion, sharing this beautiful creature with the world, alive and magnificent. I visited the second great white they ever displayed, and it was unlike anything I had ever experienced. I had seen sharks in aquariums, reef sharks while SCUBA diving, in documentary films, and of course Shark Week, but this was unlike any shark I had ever seen.
The beauty and grace of a great white shark (even one this small) can be seen on TV, but encountering it in person is a completely different experience (even if it is only in a tank). Being that close and in person gave me a sense of awe an appreciation like nothing else, only if I had been swimming alongside it would I have felt deeper. Exactly the response conservationists at the aquarium are hoping for in placing this shark on display. › Continue reading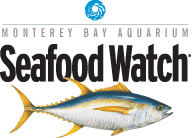 For all of you with Android phones looking for eco-friendly apps, here is my top pick! As many of you know, the Monterey Bay Aquarium puts out a Seafood Watch list of sustainable fish choices when it comes to dining or shopping. I used to print and carry around the paper version, but the great thing about it is that it updates itself so you get the most up-to-date information on fisheries and status.
Monterey Bay Aquarium's Seafood Watch App

Platform: iphone & android
Cost: Free
Details: Provides up-to-date information on sustainable seafood choices for dining or shopping in an easy to search or browse format.
Plus there is so much more, with interesting facts, illustrations and more. This guides you with ratings of 'Best Choice', 'Good Alternative' and 'Avoid' so you can make the best decision for the planet and your health. Since many of these fisheries are contaminated with high levels of mercury, even the USDA recommends pregnant women avoid these fish. › Continue reading
Keep up with us on Twitter and RSS!

You can find us at:
@
chicecologist
Most Popular
Categories